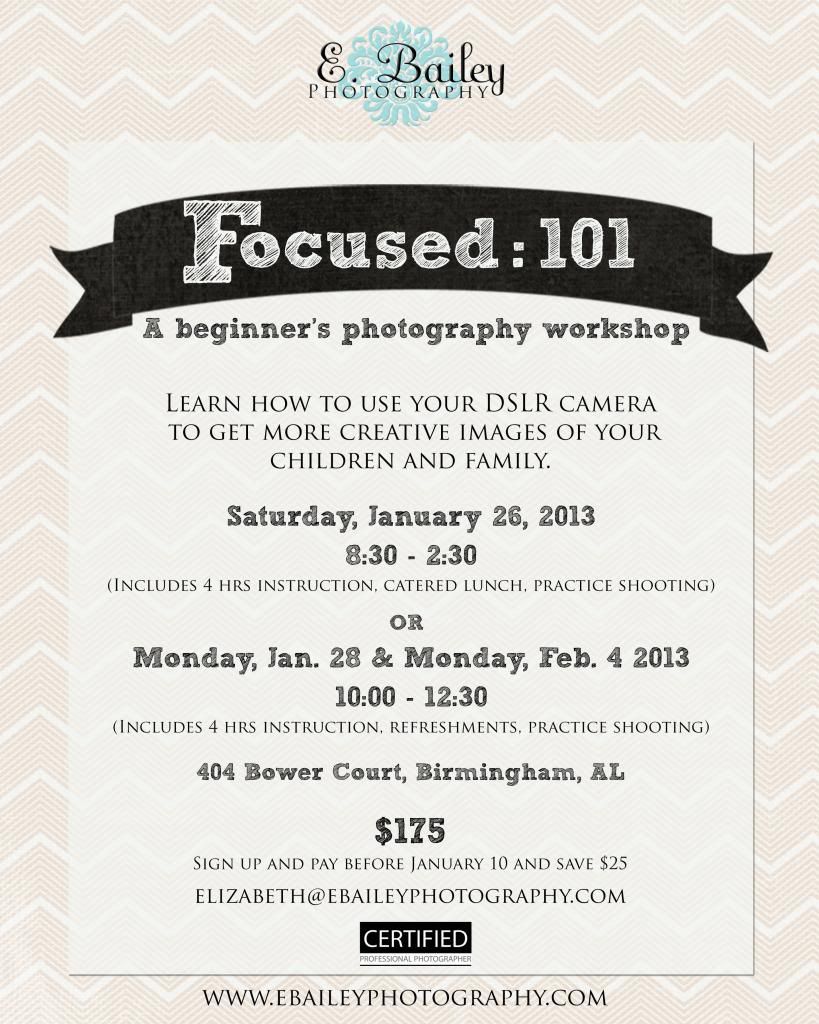 Do you have a nice, fancy camera that you have no idea how to use, or are you stuck in automatic mode and not happy with your results? This photography class is designed primarily for mom's who what to take their photography up a notch or two. I'll teach you how to use the bells and whistles on your camera, as well as share with you tips and tricks for taking better pictures of your own children.

Custom Photography sessions are a luxury, but capturing the everyday moments doesn't have to be. We focus first on getting you to start seeing creatively, which is the foundation for capturing beautiful images. Then we cover the main settings on your DSLR (a camera that can change lenses) and how to use them altogether to get the results you want. By learning these basic principles, you'll be taking better pictures in no time!
Cost:

$175 per person

(full payment is required to reserve your spot) Save $25 by booking by

1/10/13

.
Location: 404 Bower Court, Birmingham
Topics We'll Cover:
What makes a good image: An intro to exposure
ISO, Shutter Speed & Aperture
Composition: Choosing what you capture and how
Tips for taking better photos of your kids
An overview of Lenses
Ideas for sharing and printing
QA period
Do I have to have a DLSR camera?
Any camera will do, although most technical info we cover will be geared towards the DLSR. We will also be discussing a lot of basic principles of photography that will be useful no matter what kind of camera you use.
What should I bring to class?
Your DLSR camera, if you have one, camera manual, any lenses you own.
So who is this workshop for?
Because photographing children is what I know best, this class is designed for moms who love taking pictures of their kids and want to take it up a notch. You certainly don't have to be a Mom but please take note the class is tailored towards taking photos of children. Moms, Aunts, Grandmas, Sisters and Girlfriends are all welcome! (Yes, the theme here is all women. I want to have a fun girl's class where you feel comfortable asking any questions you may have.)
Who this workshop is NOT for:
1. If you already know all the bells & whistles of your camera and can consistently take properly exposed and creative photos you are probably too advanced for this class.
2. If you are thinking about starting your own photography business this class is not for you (sorry, that would take more than 4 hours). I will not be discussing any facet of my business whatsoever. This workshop is for Mom's who want to take better photos, not for budding photographers. I do offer mentoring for photographers, please email

elizabeth@ebaileyphotography.com

for more info.
Each class is limited to 10 participants.