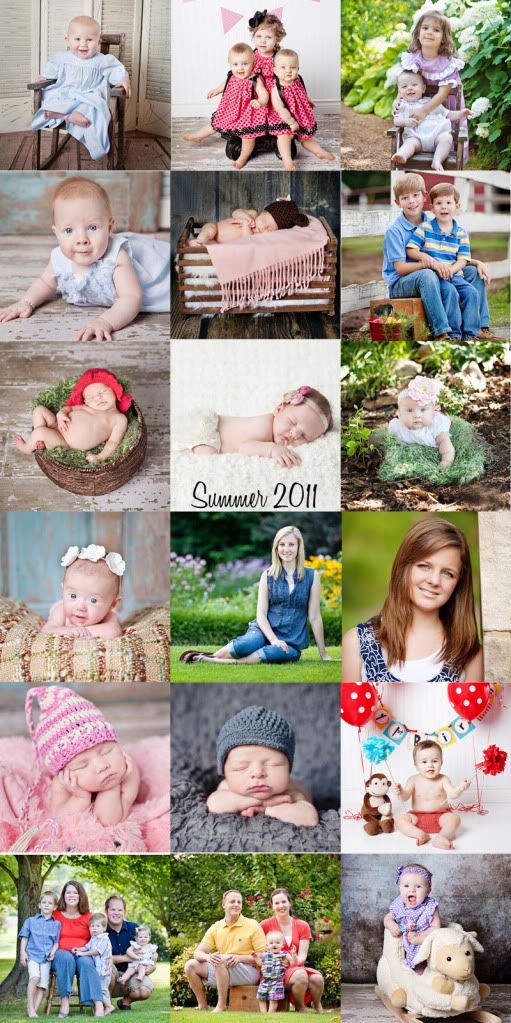 It has been a busy Summer! I am so grateful for all the wonderful clients I have been able to work with over the past 3 months. I know with the heat of Summer, many people aren't thinking about having portraits made. The studio has been getting a good workout lately. :) It is hard to believe it is already September, and the busy season is right around the corner. If you have not booked your Fall/Christmas Session, now is the time to do it! Session Fees will increase come October 1, so take advantage of getting on my calendar early!
NOW HERE COMES THE FUN PART...
Attention Summer 2011 clients.... (June, July, August) How would you like to win a FREE 8x10 from your recent Summer Session? All you have to do is share your recent Session blog post with your friends and family and have them leave a comment with their name. (Anonymous comments do not count) Comments should be left under each individual session post, and not on this post. The client that receives the most comments by Friday, September 16 will earn a FREE 8x10 of your choice from your recent session.
*Bonus*- For every friend you send to our
Facebook Fan Page
within the next week and have them tell me you sent them, will earn an extra entry.
Stay tuned to the blog and Facebook Fan Page this next week for Fall Mini Session Dates. I currently am booking for a
Mini Session day in Cullman, AL
for the North Alabama crowd.